12-Fed-07,
Go hiking with Brian
Today is my first time to take traveler goes hiking. I am happy and exciting, and I also asked Shuyi to goes with me. Shuyi is my friend, she is a university teacher. Brian selected Mt. Cising, it's the top of Taipei, I remember it's 1120 meters, today with a good weather with a sunny day, Brian is friendly, talkative, also with a good energy, we hiked very fast today, it's probably 1 hour to the summit, we only hiked 45 minutes, I was a little panting, but Brian felt good, he told me he doesn't feel we hike very fast, he could running to the summit, and he really run for a couple minutes, Brian is a student, he studies Chinese in China, so he could speak a little Chinese, and it's his 4th times to Taiwan, he has been to a lot of places in Taiwan, western, south, it's sounds like he enjoy in Taiwan, I am glad to know that, and he has been to a lot of countries, 29 countries, he is also good at on traveling, he just went to Mt. Datun two days ago, it's another famous mountain in Yanmingshan National Park, Shuyi is shy today, she doesn't speak too much English, and I would like to say thank you to shuyi for hiking with us, I got a good start, I feel really wonderful today, we enjoyed the hiking.
Po-Han
photo1 Shuyi and Brian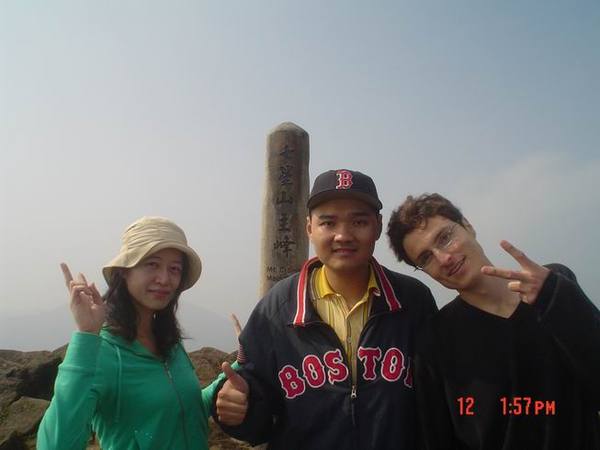 19-Feb-07
Go hiking with Lopez and Shizuka
Today is my second times taking traveler go hiking, actually I was a little worried about the weather, because according the weather report it was with raining, and it was just raining before our hiking, but we are very lucky today, it's was mist but no raining during our hiking, Jesus, thank you so much, I am appreciate, Lopez is from Chile, Shizuka is from Japan, Lopez is living in Japan now, he is a DJ for music channel, he could speak a lot of languages, one of his DJ programs is by Spanish, we hiked Mt.Jhongjheng today, Lopez feel it's really naturally, and lots of differences plants, he is very interested when we pass a rock hole, rock hole actually just a hole made by rock, some of early stages Taiwanese lived in rock hole, maybe 50 years or 60 years ago, and I think Shizuka have a good energy, Mt. Jhongjheng is not easy for hiking, but she looks very okay, and she looks like very enjoyed on the summit, it was mist on the summit, she enjoyed the feelings, Lopez told me, I could try to taking traveler hiking to be a part time job, he feels it's so great, and some of the trails are not easy to go themselves, I am glad to listen that, and now I don't have any plans, I just want to show them the beautiful Taiwan, when we were on the bus to the city, the bus bell ring again and again, but nobody drop off the bus, and the passenger said " mai yo" again and again, " mai yo" means nobody want to drop off the bus in Chinese, and Lopez listened and saw the situation, he got " mai yo" means nobody, he is really exciting, he said we got a lot interesting today, I could see the happiness in their eyes, we enjoyed the hiking the experiences, and Lopez gave me a gift, it's a craft he made, I feel really great, pleasure, wonderful, happiness is priceless.
Po-Han
photo2, Lopez and Shizuka, Shizuka is very beautiful!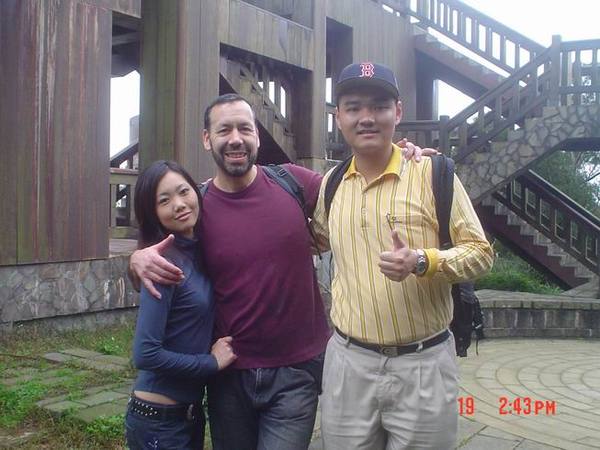 22-Mar-07
Go hiking with Yuki and Albert
We got a raining weather recently in Taiwan, and I hope today will be a good day for hiking, today I took Yuki and Albert go hiking, they selected Jyuansih Waterfull – Cingtiangang grass, it's a excellent trails in Yangmingshan National park, because it's smooth and easy for hiking, especially in Cingtiangant grass, it's the most popular places in Yangmingshan National park, it's grass everywhere, very romantic, good places for couple, and smooth for walking so also good places for senior, Albert is from Hong Kong, he could speak some Chinese, he get a baby face looks very young, and he traveled one country every year, China, Singapore, Malaysia, and this year he selects Taiwan, I am happy he selects Taiwan, he loves the trails and took a lots of pictures, Albert told me he was planning to go to Yangmingshang National Park today, but if he goes by himself, he couldn't been here, it's so great and amazing for him, Yuki was born in Japan, but he lived in seattle when he was a child, so he speaks English very well, he have a part job in Japan, and have a vacation traveling in Taipei, he enjoyed the hiking, the plants are all very differences with Japan, and we didn't get sunny today, but most of our hiking with mist no raining, mist is one of special views at Yangmingshan National Park, especially we are in mist of Cingtiangang grass, it's was great, and staff of Cingtiangant visitor center speaks Japanese very well, I think Yuki most felt so surprised and great, finally he told me it's his best day in Taipei, I am proud to listen that, and thanks for your appreciation, hope everything all goes well with yours, and welcome to travel to Taiwan again.
Po-Han
photo3, Yuki(left) and Albert(middle)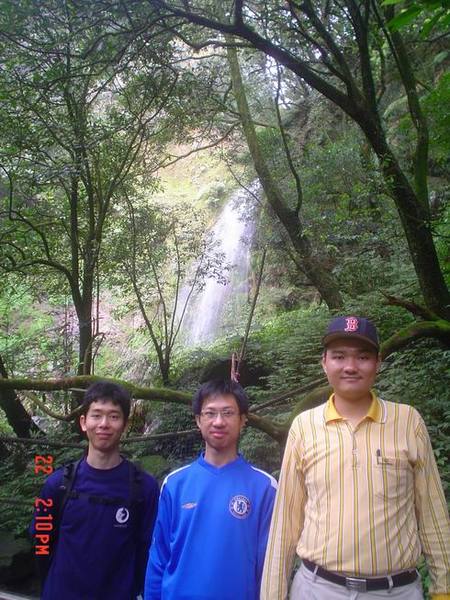 photo4, Yuki and staff of Cingtiangant visitor center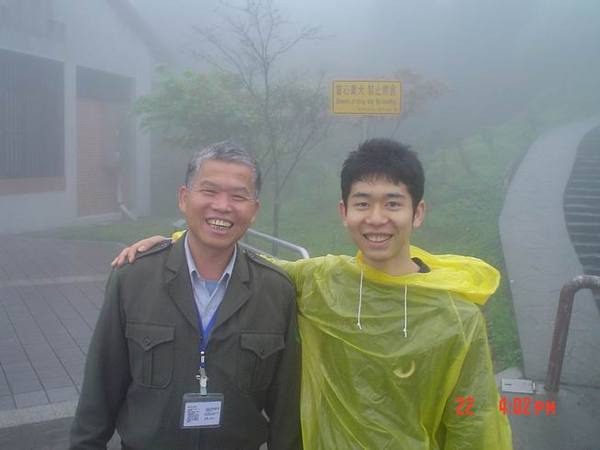 16-Apr-07
Go hiking with Dutch
Today I am a little surprised and nervous, I am going go take 27 Dutch go hiking, it's a really big group, and different challenges for me, and we went hiking to Yangmingshan National Park safely and went back to the hotel safely, it's so wonderful, thanks God, I arranged all the hiking for them, it's a lots of people, so I selected a easy and smooth trails, Jyuansih Waterfull – Cingtiangang grass – Legshuikeng, and we separated at Legshuikeng, people who are interested for more hiking, we hike to Mt. Cising, the rest have hot spring at Macao, I think it's a great arrangement form them, because Cingtiangang is one of the popular places in Yangmingshan National Prak, and there is a important point, it's easy for everyone, the people who are interested have more hiking, we hiked to the top of Taipei, Mt. Cising, and we had a good start, but after Jyuansih Waterfall, there is a small slope, it's not far but a little steep, there was a person felt bad, he was panting, so I hiked the front to the back to check he was okay, and hiked the back to the front, to take everybody, but it was okay, after the slope all the trails is smooth, today I didn't introduce too much about Yangmingshan National Park, because it's too big group, I was focus on take care everyone, after separated at Legshuikeng, 4 people went hiking to Mt.Cising with me, I wasn't with a good energy condition, but it was okay for me, finally we finished our hiking today, we went safely and went back safely, and I got some tips, it's my first time go get tips, it's wonderful for me, a really special amazing experiences for me, thanks to everyone, thanks Jesus.
Po-Han
photo5, dutch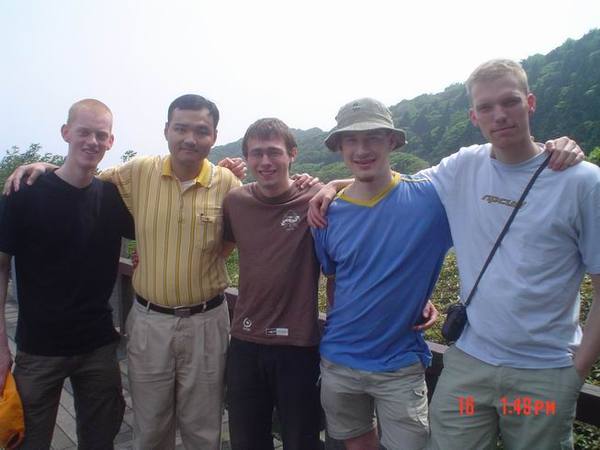 photo6, dutch(in city)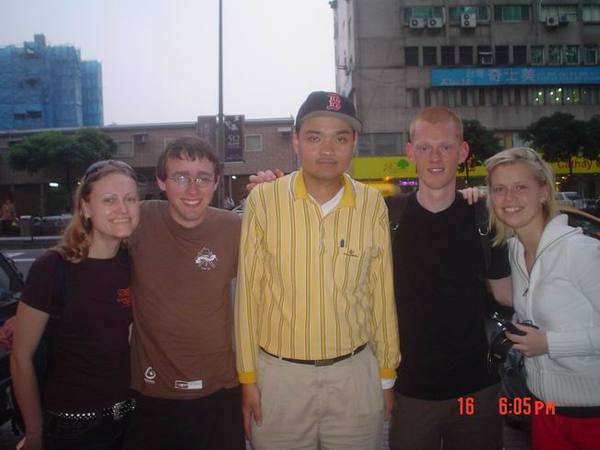 11-May-07
Goes hiking with Matthieu
After Mt. Jade hiking trip, today I took Matthieu goes hiking, he selected a simple route, Chingtien Temple to Erzihping Area, this trails probably 4 Hr's from city, 4.0 km by foot, the rest of 1.4 km are handicapped roam, so this trails is not too difficult, the handicapped roam was build for Taiwan First lady, it's very useful, not only for first lady, but also for all the handicapped people, for children, for senior, it's a little bit hot today, we got a huge sunny day, Matthieu told me he felt so hot, just like the fire burn his body, Matthieu is from North Toronto, Canada, it's a very cold area, so I could try to think his feeling, but it's everything good with us, because the trails is on a differences elevation, it's not very high, probably 600 meters, but you could feel the temperature is differences, and this trails is shade, Matthieu's destination is Australia, Sydney, he gets working holiday visa, and he transfers and stays in Taipei, I am glad he stays in Taiwan, I could take him to see the beautiful places, finally Matthieu wanted to give me some tips, he asked me, how much do I expect? Well, I told him much or less or none are okay for me, my expect is you are enjoy the beautiful places, expect you like Yangmingshan National Park, expect you love Taipei City, Taiwan, those words are from my mind, hope everything all great with you, enjoy in Taiwan, we had a great hiking today.
Po-Han
photo7, Matthieu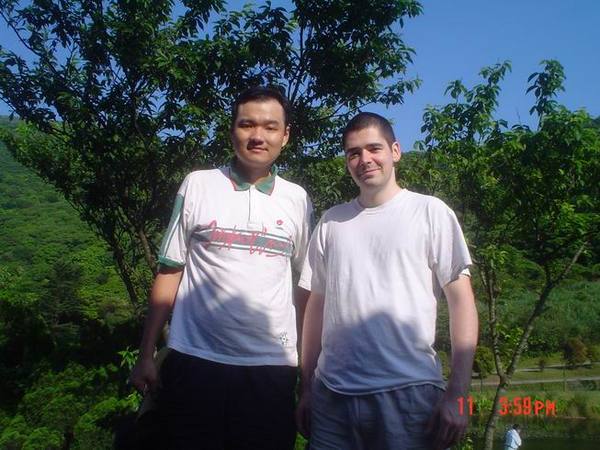 21-May-07
Go hiking with Ben and Bryan
Today is the second times taking traveler go hiking this month. I am a little exciting, after today's hiking, I have 6 times experiences taking traveler go hiking, even it's not too much, but it's also not less, so I felt happy and great, Ben is from Hong Kong, Bryan is mix, his parents are from Myanmar and Vietnam, but they live in New York, they are university students, they were high school classmates, they told me they have searched lots info about Taiwan, they knows there are lots of mountains in Taiwan, like Mt. Jade and so on, they are planning to go, I have shared my experiences with them, and they told my when they were planning for traveling, they were considering Taiwan and China, but China is too big, and transportation is not convenient compare with Taiwan, so they select Taiwan, I am glad to know that, and they agree taking traveler go hiking by bus, from places A and leave at places B is a good idea, actually I could show you lots of hiking trails differences with guide books, they are from New York, of course I am interested to know about Chien-Ming Wang, how famous is he in New York, Bryan is a Yankees fans, he said if you follow sports news, not only baseball news, you must know Chien-Ming Wang, if you are Yankees fans, Chien-Ming Wang is very famous and popular player is New York. I am really happy to know that, even I am a Boston Red Sox fans, but I am proud for that, we have a great hiking, great experience shared, thank you Ben and Bryan, wish you have a wonderful trips and enjoy in Taiwan.
Po-Han
photo8, Ben(middle) and Bryan(right)